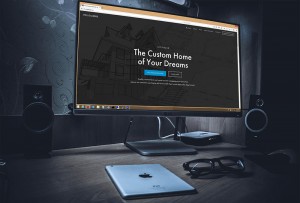 Designed Phil Gillespie a storyline-style website, using WordPress and the Genesis framework, both to showcase his talent and to direct clients to his business site, Center Pointe Properties.
Phil is a custom home builder in Greenville, SC, who has built homes in communities including Montebello, Villaggio di Montebello, Promenade de Montebello, Cobblestone, and Cliffs at Keowee Falls. Phil needed a website that communicated his passion for quality home building and looked as professional as his work.
Web Design & Domain Name
I purchased the domain name, philgillespie.com, well in advance of the site build, to lock in his name and give the domain time to build age authority.
I recommend that all business owners and entrepreneurs purchase their personal name domains. You can purchase a domain for less than $15 per year. Anyone can purchase any domain name, and you want to own your name's domain, even if you aren't sure exactly what you're planning to do with it right away.
The new philgillespie.com recently launched, and Phil has received many compliments and excellent feedback as a result. His business website has begun to get increased traffic as well.
Websites I've built for Phil Gillespie:
(Don't forget to buy your domain name!)
Web design & Development Expert in Greenville, SC
I design clean, simple, easy to use, functional, fast and easy to find on the internet websites. For more information about me you can check out my resume or head over to our home page.
Get in Touch
If you're thinking about building a website and want to talk about ideas, feel free to give me a call at 864.881.1675 and we'll talk.