This article will discuss TV installation ideas for our Greenville, SC clients. Was talking to a client of ours and he was ready to purchase a TV and have it installed but didn't know what would look best for his family room. We set out to put together some design ideas for their new TV install and wanted to share with you.
The design we put together for our client consist of a LED TV, fixed TV mount, sound bar, (2) custom-built floating wooden shelves and all wiring fished and hidden in the wall. This design would look great with a 40 inch TV or larger.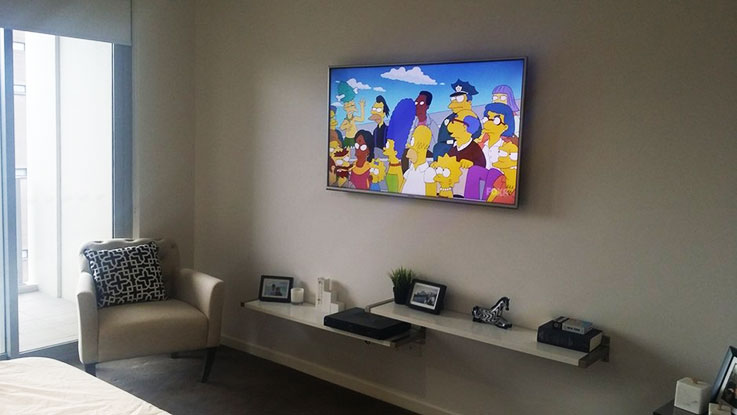 We found this picture above on the internet by doing a few searches. We wanted to make it look better and less European-sh. Striving for a modern rustic look.
Here's Grand Central Wiring's TV installation design we put together with paper and pencil.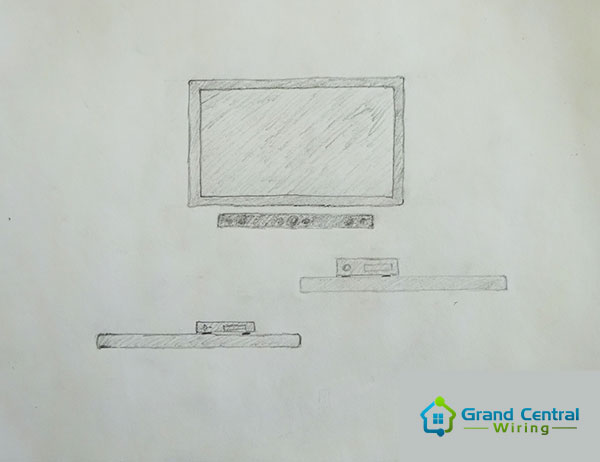 This is a cost effective, clean and good looking design. No hidden components that would cost extra for wiring and installation. This setup would look nice on a large wall without any furniture. Highly recommend a low-profile mount for this install so when you walk past the TV looking from the side you don't see any wires or behind the TV.
Our client's current A/V setup:
TV is on top of cabinet and the audio/video components are below. In the family room, nice home theater and multi-zone receiver. 2 book shelf speakers laying in the floor are connected to the receiver to play sound from the TV. They also have 5 rooms separate rooms of audio with volume controls. Has to operate system with 5 different remotes which is a total nightmare.
New project design in detail:
New 50' LED TV
Keeping multi-room (multi-zone) home theater receiver
New sound bar mounted to the wall.
New custom programmed universal remote control
(2) 2 ½ in wooden shelves staggered for home audio/video components and decor
Upgrading multi-room audio volume controls for better sound through out the home
New universal remote for ease of use vs 5 remotes
We're going to get rid of the cabinet and book shelf speakers and upgrade to a passive sound bar. More information about types of sound bars here.
TV Installation Services
Go to Grand Central Wiring's website and Facebook page to see more of our TV installations.
We fish all cables and wires in walls
Relocate cable TV, telephone & computer network cables
HDTV antennas
Hiding cable or satellite receiver behind TV
Relocate power for TV
Sheetrock repair
Painting/touchups
And tons more!
TV installation Review
Jason Gillespie is a very nice, respectful, and knowledgeable technician. I highly recommend him and Grand Central Wiring – Chris Glaser
If you need help putting together a design for your next TV install, give us a call at (864) 881-1675.