I'm Jason Gillespie and these are my companies and services.
Grand Central Wiring
Envisioning a home theater? Or just need a TV installed or surround sound system put in? Grand Central Wiring sells and installs home audio/video components and equipment in Greenville, SC. We've been in the technology business for 15 years, and we've served dozens of clients who continue to recommend us. We love what we do — it's our passion.
We install your home audio/video system seamlessly, so you don't see any wire or clutter. If you're interested to learn what we could do for you, check out our reviews on Grand Central Wiring's Facebook page. Or you can see a complete list of services on the Grand Central Wiring website.
Manufacturers: Denon, Yamaha, Onkyo, Sony, KEF, Klipsch, Jamo, Niles, Boston, Velodyne, Sunfire, Audio Source, Polk, Monster, and many more.
Services:
Home theater
Automation
Remote control programing
Multi-room audio
Intercom
Telephone, Internet , network, satellite and cable
Electrical
Jnology
Struggling with a slow computer, or need an upgrade? Jnology is a computer repair company that offers repairs on-site, in-shop, and online. Jnology has been in business for 15 years, serving clients in Greenville, Simpsonville, and Mauldin, SC.
Our skilled and experienced team offers a full set of premium-level services. And because we customize every service to each client, you can be sure you're getting exactly what you need.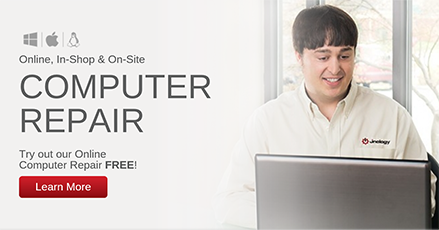 To see a complete list of services, visit Jnology's website here.
Services:
Computer repair
Online repair
Computer upgrades
IT Support
Computer tune up
Tech support
Web Design
I and my team build simple, optimized, custom WordPress websites. The themes we build for clients offer search engine optimization (SEO), responsive HTML5 design, security, and instant updates.
We build our sites to be easily customizable, even for those who don't know programming code, and we build them according to the latest in best practices so that they're fast and efficient. Our goal is to provide our clients with websites that are easy to manage and simple to keep up to date.
Testimonial
"Jason is very knowledgeable about all the technical aspects of creating a maintaining a website, and he's easy to work with. The website he created is way beyond anything I could have imagined. He did a fantastic job! I'm absolutely thrilled with the result. He was always one step ahead of me on the website creation, able to know what I needed before I did. I really appreciated that." — Bob Prock
Services:
Development
Search Engine Optimization (SEO)
Website updates
Graphic Design
We make technology work for our clients! Looking for tech help or an IT guy? You've found the right place. Give us a call anytime at (864) 881-1675, and we will be glad to help.