JasonGillespie.com Features Fresh Bio and Portfolio .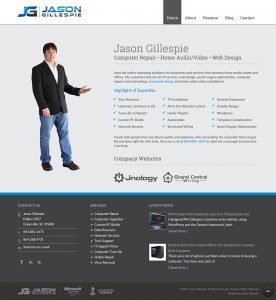 Greenville, SC (July 3, 2015) — Jason Gillespie today announced the launch of a new website, https://JasonGillespie.com. The site highlights Jason's experience in IT and home audio/video, including computer repair, custom PC builds, website design, and home theater design/installation. Key features of the site include an easy-to-navigate portfolio and bio.
Gillespie encourages prospective clients to view the projects he's completed, and call to ask questions about their own projects. He currently works with clients in the Greenville area, and can accommodate non-local customers for online computer repair and website development.
"I'm excited to have a new site that features my work so effectively," Gillespie says. "I know how important it is for people who are considering hiring a contractor to be able to see past projects and read testimonials of people who have experienced working with me."
Gillespie will continue to update the site via his tech blog, which focuses on tips for homeowners and businesses dealing with IT issues.
About Jason Gillespie
Jason Gillespie is the owner of Grand Central Wiring and Jnology Computer Repair. His customers hire him for IT services, web design, search engine optimization, computer repairs and networking, structure wiring, and audio/video installations. To learn more, visit Jason Gillespie, or call 864.881.1675.