I vow to be # 1 on the name, Jason Gillespie in the Google organic search results. I build websites for clients and personal websites with an accurate domain name usually always end up #1 in Google.
Jason Gillespie – Cricket Australia
Not in my case, I'm up against Jason Gillespie, nicknamed Dizzy that plays cricket for Australia. Let me tell you, he's a popular guy that has a large social media following over there. Over here in the United States, cricket is not a heavily followed sport. Our main sports are baseball, basketball & football.
Currently for the search of Jason Gillespie, Jason (Dizzy) holds #1 – 5. Jason Gillespie from Greenville, SC in 6th place. Dizzy's top websites are Google Images, ESPN Cricket, Wikipedia, Twitter, Google News.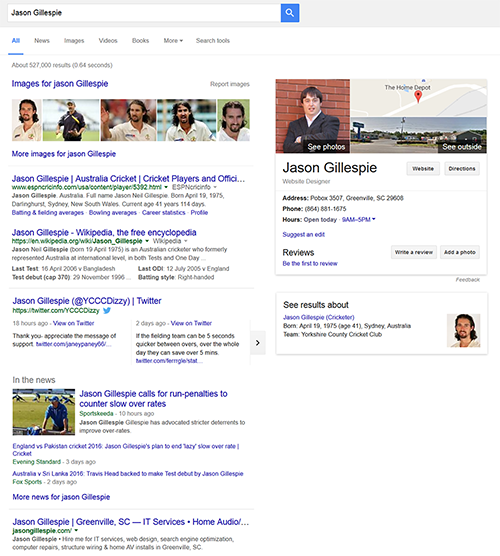 Jason Gillespie – Greenville County Engineer
Locally, I'm up against Jason Gillespie of Easley, SC that works for Greenville County as a Civil Engineer for Environmental. His Greenville County Government website is #1 and I'm #2 in Google for the search of, Jason Gillespie Greenville, SC.
Updated on 7/15/17
Government websites always perform well in Google. Thus why I'm # 2. On a good note, I've been so busy with my home audio/video, computer repair and remodeling, I haven't had time to spend on marketing and SEO for this website.
Jason Gillespie – Greenville, SC
I love challenges. This is where I thrive and it's one of the reasons I'm good at SEO. When I get some free time, I'm coming after that #1 spot. I've completed my SEO analysis and when I get time, will start the implementation process.
Some SEO companies would tell you it's impossible to beat a Wikipedia and an ESPN website. I say it's very possible.
Skills & assets I have to be #1:
Persistence
SEO knowledge and experience
Domain jasongillespie.com
Give me a year or so and I'll be #1 in Google on the term Jason Gillespie and Jason Gillespie Greenville, SC. Today is 8/11/2016. Website was launched on 7/3/15. I'll post a screen shot and an update as soon as I reach my target destination.